DWV

DWV (drain, waste, andvent) copper tube is designated by ASTM standard, the actual outside diameter of this kind of tube always 1/8 inch larger than the standard size designation. In residential buildings and small commercial buildings, the drainage piping is usually straightforward in design and simple in installation. DWV copper tube, installed with good workmanship by an experienced plumber, will provide many years of trouble-free service.
The smaller diameter of DWV copper tube and fittings makes it possible to install copper drainage systems where other competing piping materials would be impossible, diffcult or more costly.
Recommend application for DWV copper tube
Drainage and vent systems: Type DWV copper tube for above and below ground waste, soil and vent lines, roof and building drains and sewers.
Winland Plumbing Tubing (DWV)
The copper tube specifications refer to ASTM B306 type DWV, which is short for Drain, Waste, and Vent. The datas include copper tube outside diameter, temper, wall thickness, and etc. of both imperial and metric units.
For plumbing copper tubing, people used to classify the tubes by wall thickness. There are type K, type L, type M and type DWV copper tubes. Compare to other tube types, DWV tube has the most thinnest wall thickness.Type DWV tubes mainly applied for drainage pipline systems.
We offer DWV copper tube from 1-1/4" ~ 8", Winland's different types of copper tubes are manufacturered with pure copper (C12200, 99.9% cu plus 0.015~0.040% p), if you need copper fittings, please feel free to email us.
Dimensions listed below are for rigid tubes, aslo known as hard temper (H58) copper tube, supply in straight length form.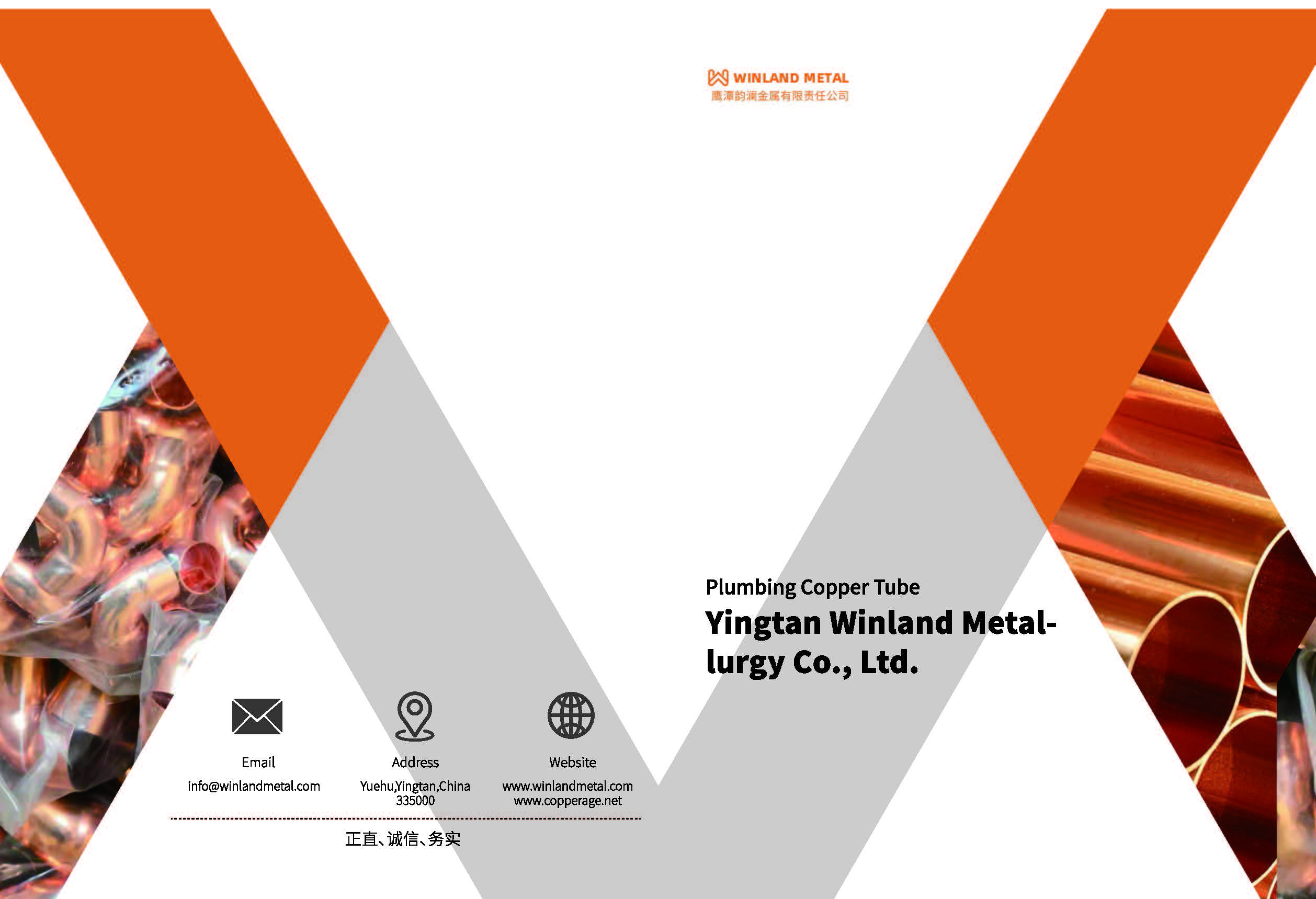 Download Catalog
Type DWV Plumbing Copper Tube Size Chart (ASTM B306)
Straight Rigid Tubes

| Nominal Tube Size | Actual Outside Diameter | Actual Wall Thickness | Theoretical Weight | Actual Outside Diameter | Actual Wall Thickness | Theoretical Weight | Tube Temper |
| --- | --- | --- | --- | --- | --- | --- | --- |
| 1-1/4 inch | 1-3/8 inch | 0.040 inch | 0.650 lb/ft | 34.93 mm | 1.02 mm | 0.967 kg/m | H58 |
| 1-1/2 inch | 1-5/8 inch | 0.042 inch | 0.808 lb/ft | 41.28 mm | 1.07 mm | 1.203 kg/m | H58 |
| 2 inch | 2-1/8 inch | 0.042 inch | 1.064 lb/ft | 53.98 mm | 1.07 mm | 1.583 kg/m | H58 |
| 3 inch | 3-1/8 inch | 0.045 inch | 1.676 lb/ft | 79.38 mm | 1.14 mm | 2.494 kg/m | H58 |
| 4 inch | 4-1/8 inch | 0.058 inch | 2.853 lb/ft | 104.78 mm | 1.47 mm | 4.246 kg/m | H58 |
| 5 inch | 5-1/8 inch | 0.072 inch | 4.413 lb/ft | 130.18 mm | 1.83 mm | 6.567 kg/m | H58 |
| 6 inch | 6-1/8 inch | 0.083 inch | 6.084 lb/ft | 155.58 mm | 2.11 mm | 9.054 kg/m | H58 |
| 8 inch | 8-1/8 inch | 10.597 lb/ft | 0.109 inch | 206.38 mm | 2.77 mm | 15.769 kg/m | H58 |
Free Quotation