DTL Copper and Aluminum Terminals

High quality pure copper and aluminum are fabricated by advanced friction welding technology, Winland supplies copper and aluminum termials to perfectly meet your project's requirements.
In the case cable cannot be directly wired with copper terminal for connection,  copper-aluminum terminals are used to achieve the effect of transition connection.
Generally speaking, copper wires and copper bars are used to connect electrical equipment with copper terminals.
If the cable is an aluminum core cable, when connecting with electrical equipment such as copper bars, it is necessary to use the copper-aluminum transition wire nose. Friction welding technics enhance could enhace the terminal's performance of anti-break and electrical conductivity.
Dimensions
Following is a drawing to introduce the copper and aluminum terminal's dimensions, which are described by eight precise datas ( Φ, D,d, L, L1 and etc.).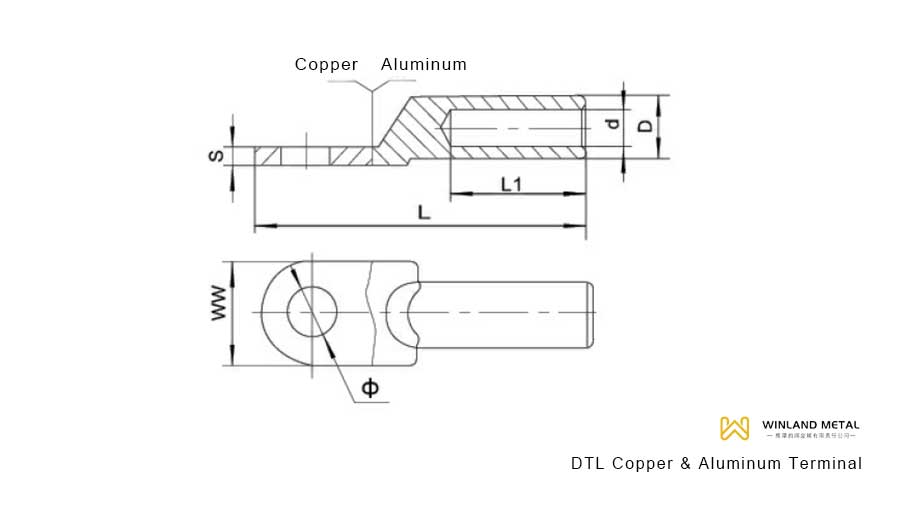 table 1: Models and Dimensions of Cu-Alu Terminals (DTL)

| Model | Φ | D | d | L | L1 | W | S |
| --- | --- | --- | --- | --- | --- | --- | --- |
| DTL-10 | 8.4 | 10 | 5.0 | 65 | 32 | 16 | 2.7 |
| DTL-16 | 8.4 | 10 | 5.5 | 70 | 32 | 16 | 3.0 |
| DTL-25 | 8.4 | 12 | 7.0 | 75 | 34 | 18 | 3.5 |
| DTL-35 | 10.5 | 14 | 8.5 | 85 | 40 | 20 | 3.5 |
| DTL-50 | 10.5 | 16 | 9.5 | 90 | 42 | 23 | 4.0 |
| DTL-70 | 12.5 | 18 | 12.0 | 102 | 47 | 26 | 4.5 |
| DTL-95 | 12.5 | 21 | 13.0 | 112 | 50 | 28 | 5.0 |
| DTL-120 | 14.5 | 23 | 15.0 | 120 | 53 | 30 | 5.5 |
| DTL-150 | 14.5 | 25 | 16.0 | 126 | 55 | 34 | 6.0 |
| DTL-185 | 16.5 | 27 | 18.0 | 133 | 58 | 37 | 6.5 |
| DTL-240 | 16.5 | 30 | 20.0 | 140 | 60 | 40 | 7.5 |
| DTL-300 | 21.0 | 34 | 23.0 | 165 | 65 | 45 | 8.5 |
| DTL-400 | 21.0 | 38 | 26.0 | 170 | 70 | 52 | 9.5 |
| DTL-500 | 21.0 | 42 | 29.0 | 190 | 75 | 60 | 10.0 |
| DTL-630 | Square | 54 | 34.0 | 225 | 80 | 78 | 10.5 |
| DTL-800 | Square | 60 | 38.0 | 270 | 90 | 100 | 11.0 |
Free Quotation