Capillary Copper Tube stands for copper tubes have a very small diameter. Visually the tubes could be either straight or coil form, because tube's temper condition is available for hard. annealed or even half hard. Winland Metal offers capillary copper tubes with O.D. ranging from 1.83mm~3.81mm to our customers. The pipe's diemnsions are customized as per client's demand.
High-quality capillary copper tubes are suitable for industrial sectors such as refrigerators, high-precision instruments and electronics.
Our standard packing for capillary copper tube is wooden case.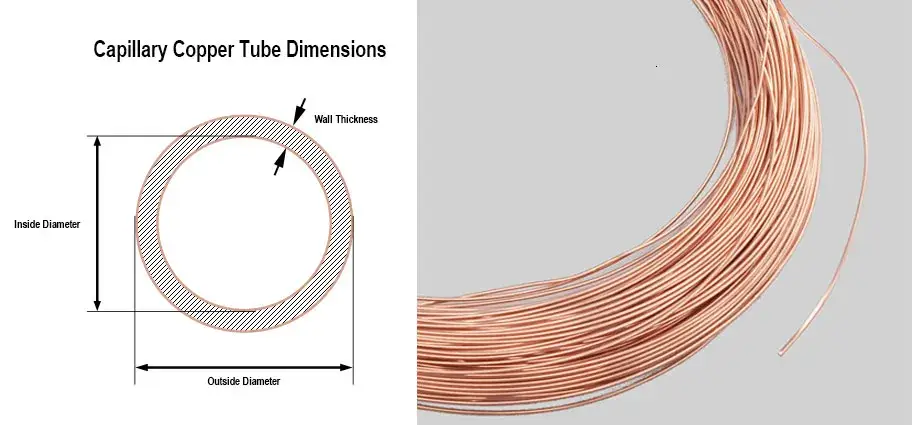 Size Range
Inside diameter (I.D.) ranging from 0.020~0.175 inches (0.50~4.45mm)
Outside diameter (O.D.) ranging from 0.072~0.24 inches (1.83~6.10mm). Please refer to the image on the right.
Why Use Capillary Tube?
Take HVAC field for example, small air-conditioning heat pump units and refrigerator refrigeration systems composed of fully enclosed compressors, such as window air conditioners and cabinet air conditioners. These products widely use copper capillary tubes to replace thermal expansion valves as refrigerant flow control components.
Advantages of Capillary Copper Tube
Made of pure copper, structure is simple, convenient to handle, price effective
Copper capillary tube has excellent electrical and thermal conductivity and corrosion resistance performance
Copper capillary tube is easy to solder, and suitable for cold and hot processing
Precise dimensions, lightweight
No moving parts, not prone to failure and leakage
Under a certain pressure difference, the flow through the capillary is stable
The simplest in design, lowest in cost type expansion devices of cooling and air conditioning in refrigeration systems is the capillary tube. A capillary tube reduces refrigerant pressure using friction and the acceleration of the refrigerant in the tube.
Capillary Copper Tube Material
To meet various applications of capillary copper tubes, Winland Metal offers capillary copper tubes made of phosphorus deoxidized copper and oxygen free copper.
Oxygen Free Copper Tube
Oxygen-free copper (OFC) indicates pure copper does not contain oxygen or any deoxidizer residues. However, OFC still contains a very small amount of oxygen and other impurities.
According to standards in different countries, the oxygen content in OFC shall less than 0.003%, and the total impurity content in OFC shall less than 0.05%, and the copper purity is more than 99.95%.
Winland's OFC capillary copper tubes are mainly used in electronics industry, because the tubes has no hydrogen embrittlement, high conductivity, good processing & welding performance, corrosion resistance and low temperature resistance performance.
Electrical and electronic applications such as audio equipment, vacuum electronic devices and other electronic industries may use OFC capillary copper tubs.
Phosphorus Deoxidized Copper Tube
Copper grades of phosphorus deoxidized coppper are normally recoginzed as C12200, Cu-DHP, which Cu+Ag content is more than 99.9%.
Capillary copper tube fabricated with phosphorus dexidized copper are mainly used for condenser , evaporator, heat exchangers, refrigeration industries.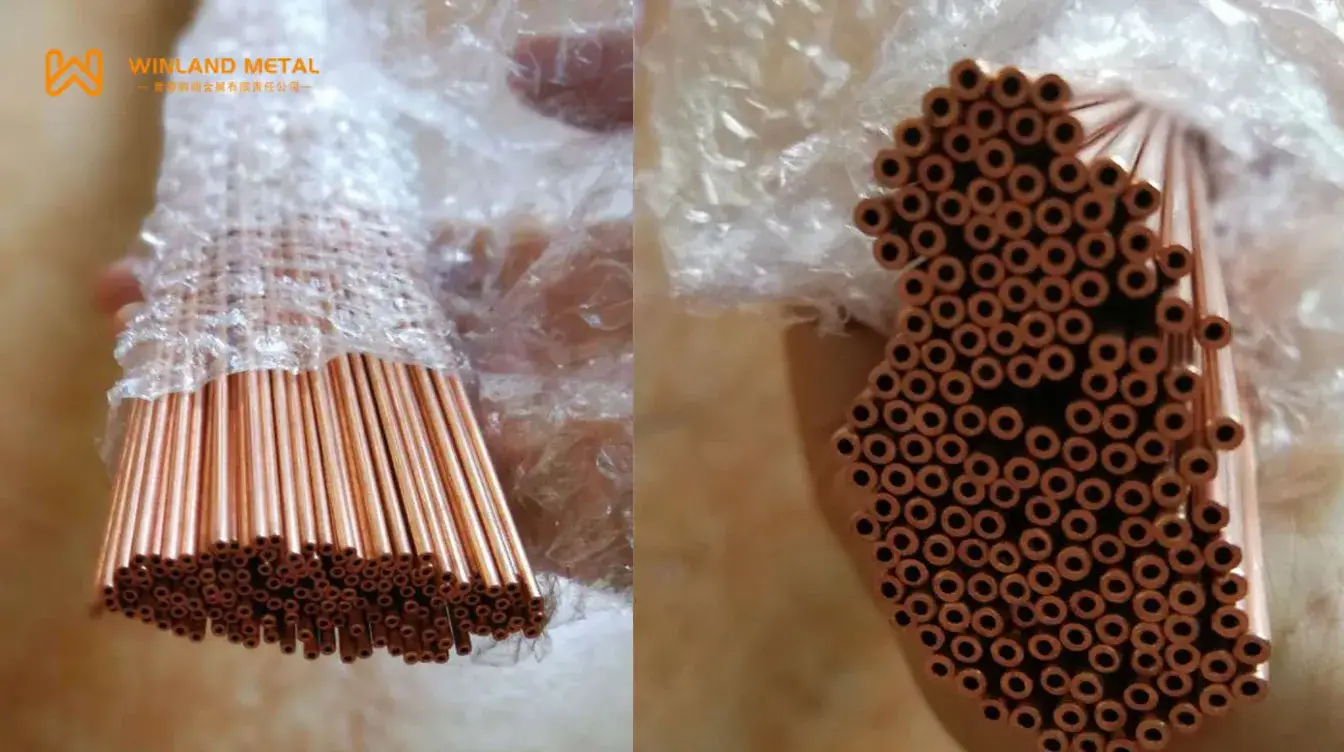 Straight Capillary Copper Tube
For copper capillary tube of hard and half hard temper, Winland Metal supplies the tubes in straight length. Normally it will take 10-15 days for production.
As per the end user's demand, straight capillary copper tube may need to cut into particular length, we could offer be spoken cutting service.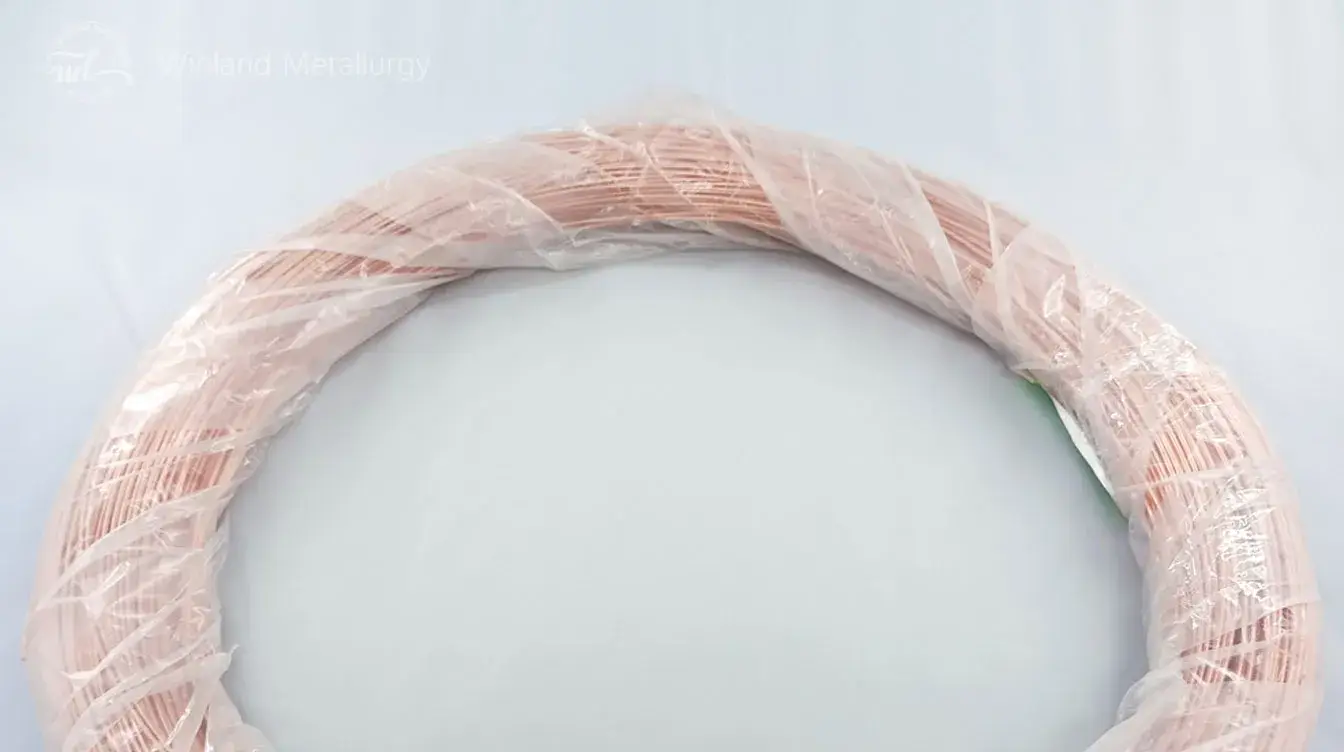 Capillary Copper Coil Tube
In a refrigeration device, the long and thin capillary is generally coiled into a spiral shape, and the diameter of the coil should be uniform to prevent breakage.
In order to avoid capillary jet flow noise, the outside of the capillary can be wrapped with isobutyl rubber to play the role of sound insulation and shock absorption.
Tolerances of Capillary Copper Tube
Winland Metal supplies capillary copper tube with wall thickness tolerance at +/-0.02mm, and outside diameter tolerance at +/-0.03mm.

Regulary Sizes
Belowing are the normal sizes of copper capillary tubes, we support customization of tube dimensions and copper alloy. Please contact our sales for quotation.
| Product | Copper Alloy | Form | O.D. (inches) | O.D. (mm) | I.D. (inches) | I.D. (mm) | Cross Sectional Area of tube Bore | Cross Sectional Area of tube Bore |
| --- | --- | --- | --- | --- | --- | --- | --- | --- |
| Capillary Tube | C12200/C10200/C10100 | straight/coil | 0.072" | 1.83 | 0.028" | 0.711 | 0.000616 inch² | 0.397mm² |
| Capillary Tube | C12200/C10200/C10100 | straight/coil | 0.081" | 2.06 | 0.031" | 0.787 | 0.000758 inch² | 0.487mm² |
| Capillary Tube | C12200/C10200/C10100 | straight/coil | 0.087" | 2.21 | 0.036" | 0.914 | 0.001018 inch² | 0.657mm² |
| Capillary Tube | C12200/C10200/C10100 | straight/coil | 0.093" | 2.36 | 0.042" | 1.067 | 0.001315 inch² | 0.893mm² |
| Capillary Tube | C12200/C10200/C10100 | straight/coil | 0.097" | 2.46 | 0.046" | 1.168 | 0.001662 inch² | 1.07mm² |
| Capillary Tube | C12200/C10200/C10100 | straight/coil | 0.106" | 2.69 | 0.054" | 1.372 | 0.00229 inch² | 1.48mm² |
| Capillary Tube | C12200/C10200/C10100 | straight/coil | 0.112" | 2.84 | 0.059" | 1.499 | 0.002734 inch² | 1.76mm² |
| Capillary Tube | C12200/C10200/C10100 | straight/coil | 0.125" | 3.18 | 0.07" | 1.778 | 0.00848 inch² | 2.48mm² |
Free Quotation